Favorite Animal Sidekick, Pet or Summoning From Any Anime
This was honestly a harder one for me to answer. I couldn't think of many, but I would have to say one sticks out more than the rest.
Sadaharu 
I suppose whether Sadaharu is a pet or a full member of Yorozuya Gin Chan is arguable, but he's my choice. An Inugami (Dog God) that had lost his original place to guard after the Amanto came, Sadaharu, no longer being able to be kept by his original owners, ends up on Yorozuya's door step and is taken in.
Although everyone helps take care of him, he's mostly Kagura's (as she is the only one who can handle his strength).
He's giant. He's cute. He's good comic relief at times. He's a master of disguise.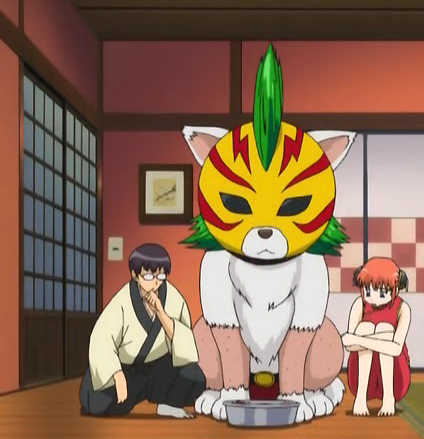 And he can play a mean game of "Rock, Paper, Scissors".
That's all I got today.
Until next time: Happy Viewing!