First off: Hello! I have been off of here for a while. Not avoiding my blog per se, but resisting writing by a combination of prolonged procrastination and distracting myself with other things ( The weather has finally been nice in Wisconsin). I will try to start writing more again because I do feel a little better when I do.
I got to thinking about parenting and anime again recently…a big surprise given the content of my blog.
What got me thinking was how I have been letting my younger son watch a few things that I previously had kept him away from. This is only makes sense as he gets older though.
As kids get older, they mature (hopefully), they are able to take in new information, and react to it in a more thoughtful way. Parenting is not static, your approach and how you view your child needs to evolve over time.
With some shows, I have just allowed it. Other shows, I still restrict. And some I will watch with him, so as to discuss the content of what he watched to monitor how he is reacting to the more controversial parts of a show.
The series that got me thinking about this was the Monogatari series. I love this series (as many of you may know already). He's been bugging me for a long time to watch it and I have always responded with a resounding : "Nooooo".
At some point I changed my mind. Why? I have no idea.
Araragi is a bit of a cretin…
He creeps on Hachikuji…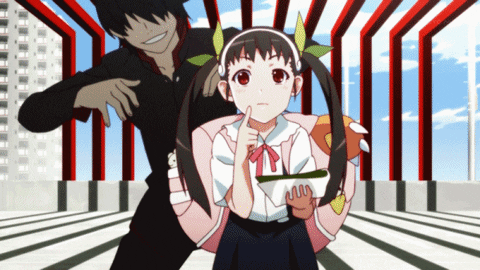 And then there's Kanbaru…
So there are many reasons as a parent to have reservations. However, I realize he is getting older and stuff he discusses with his peers are just as awful.
But the thing that made me have the most reservations was in Nisemonogatari…You know what it is…everyone knows…the toothbrush scene. I don't even like this scene. It's creepy. It's the thing I dislike about the series the most. Nisemonogatari is my least favorite of the series, but it does have some great conversations and exposition that becomes important later.
So…I have been watching the series with him. He saw the toothbrush scene…How did he react? With extreme discomfort. Good. He should. He said it was one of the most uncomfortable things he's watched. I'm happy he felt that way rather than complacent.
I think that is a side benefit of being a fan of anime (and this can apply to other media as well) when your kids watch it. It opens the floor for discussion. A myriad of issues can be discussed that may not have come up otherwise. I can talk with him and express my view that Araragi is a creepy dude in many ways, I can steer him to think about these things, and I see what he is thinking.
Now that being said, the Monogatari series really is great in many other ways. It is a dialog heavy show with rapid fire wit and discourse, which is why I love it so and wanted to share it.
Sometimes you take the good with the bad, but opening a dialog helps frame the bad in a new context.
Watch anime.
Watch anime with your kids.
Watch and discuss anime with your kids.
These are just some thought that crossed my mind of late.
Until next time: Happy viewing!