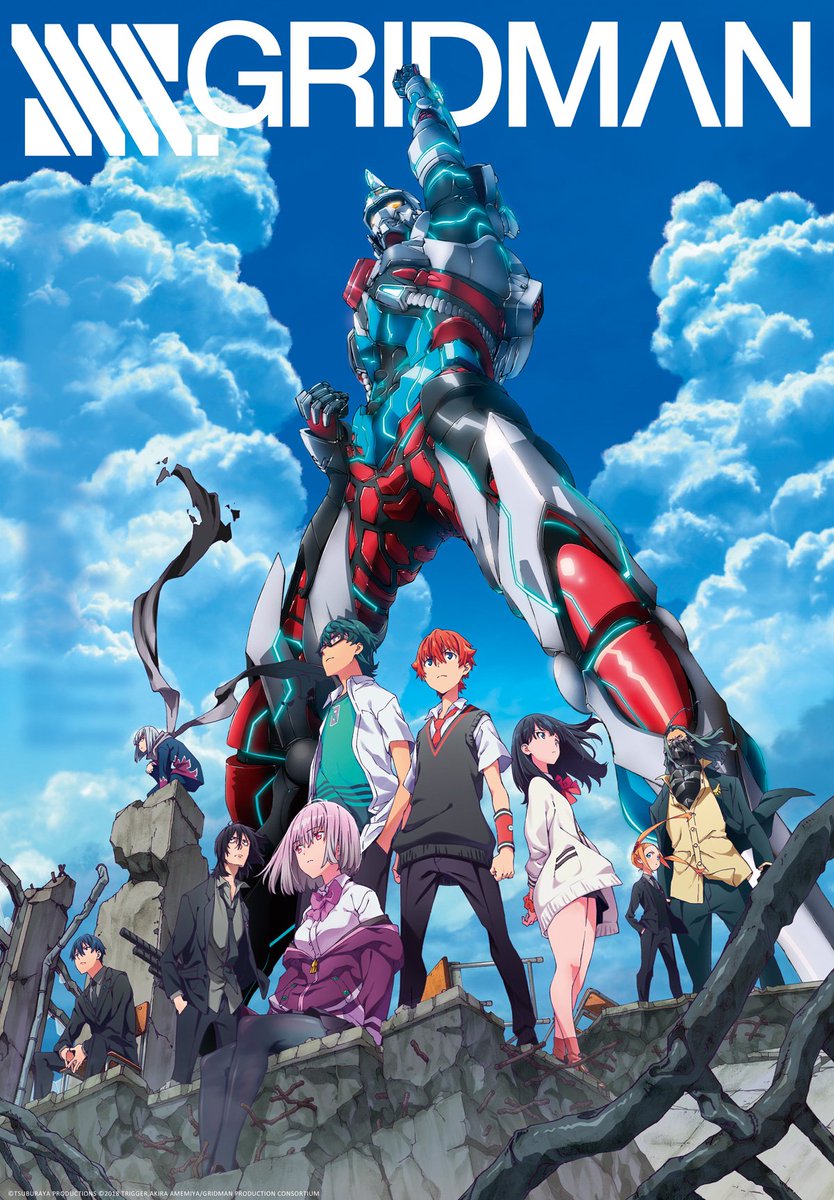 Opinions I read on MAL were quite mixed on this show. People seemed to love it or hate it. I fall in the "love it" camp….or just like it a lot…it was good!
Much of the confusion I read seemed to be centered around comparing it to other mecha shows…the problem with this is…it's not a mecha show. It's based off of the tokusatsu genre.
From Tokupedia:
"Tokusatsu (特撮) is a Japanese word that literally means "special effects." It is primarily used to refer to live-action Japanese film and television dramas that make use of special effects.
The term "tokusatsu" is a contraction of the Japanese phrase "tokushu satsuei" (特殊撮影), meaning "special photography". In production, the special effects director is given the title of "tokushu gijutsu" (特殊技術), Japanese for "special techniques" or "tokusatsu kantoku" (特撮監督), which is Japanese for "special effects director", the title usually used by English language productions.
Tokusatsu entertainment is often science fiction, fantasy, or horror, but movies and TV shows in other genres can sometimes be classified as tokusatsu as well. The most popular types of tokusatsu are kaiju monster movies (the Godzilla and Gamera film series), superhero TV serials (the Kamen Rider and Metal Heroes series), and mecha dramas (Giant Robo). Some tokusatsu television programs combine several of these subgenres (the Ultraman and Super Sentaiseries)."
Now this obviously wasn't a live action, but still was, in it's nature, a tribute to this genre. Sure, there were nods to the mecha genre (Neon Genesis High School), but it was a Tokusatsu at it's core. It had Kaiju and superheroes to fight them.
I can't say that I am particularly versed in that genre at all, so I can't speak to it in depth. I went into the show blind. I am basically looking to be entertained. This can be surface…it can be deep…I am not fussy. I will take a deep story or mindless entertainment. As long as I am entertained, I am happy.
I was pleasantly surprised with SSSS Gridman. I liked the animation, soundtrack, and story. The characters were good, with the supporting characters being more memorable than the main protagonist.
 There wasn't anything particularly wrong with Yuta, but I found Sho and Rikka more memorable and interesting….perhaps because they had to make sense of their relationships more than Yuta did.
 And then there's Akane…a very good villain. Way too much power in a teenage brain trying to find itself. She was a delight.
I watched the dub of this and it was great. I recommend it highly. I often watch sub, but thoroughly enjoyed this dub.
Beyond the monsters and heroes there is the underpinning of trying to find friendship and a sense of belonging. I really like this aspect of the show. While one can cynically dismiss that as trite or cheesy, I like it and think the world needs more of that. A sense that we can find connection in others when we are lonely and lost ourselves.
Attention Parents: Nothing is too bad….or that memorable as really bad. Fantasy violence is about it. Akane is a bit psycho.
I liked the show. It is on Crunchyroll and the dub is on Funimation.
Until Next Time: Happy Viewing!